Today's real estate market seems to be constantly changing and one of the most significant contributors is interest rates. The Fed, in an attempt to offset inflation, has made substantial increases to interest rates. As a result, 30-year mortgage rates have increased from an average of 3.18% in early January to 5.66% as of July 19, 2022. This has led to a significant impact on potential buyers' purchasing power. For example, a buyer at the beginning of the year may have been able to afford a mortgage of $1,000,000 with a 30-year fixed rate of 3.18% that had a monthly payment of $4,314. If that same buyer were looking today with a rate of 5.66%, they would likely be looking at a mortgage of $750,000 to have a similar payment. That is a significant decrease that cannot be overlooked.
So, if you're a buyer, how do you get some of your purchasing power back? One option is to see if the seller will buy down some of the points on the mortgage. In this scenario, the seller will contribute funds toward the interest the buyer owes. This can be a mutually beneficial option for the seller and the buyer. The seller concedes less money by purchasing points for the buyer compared to reducing the sale's price to achieve the same monthly payment for the buyer.
For example, let's look at a property on the market for $1,000,000. A prospective buyer would likely put 20% down and have a loan of $800,000. With an APR of 6.19%, the total monthly payment would be $6,052.55. If someone started their home search at the beginning of the year, they may have started out planning to have a monthly payment of around $5,500 a month. Typically, the two sides will begin negotiating on price and could try to drop the sale's price by $50,000. Going that route would decrease the monthly payments for the buyer to $5,757.42 and save them just under $300 a month. Alternatively, the seller can purchase points on the mortgage. If the seller contributed $32,000 to the mortgage rate, the buyer's APR becomes 5.048%, the monthly payment drops to $5,481.36, and the buyer saves $571.19 a month. For the buyer to have the same payment, the sale's price would need to decrease to $882,492, representing a loss to the seller of almost $120,000. As you can see, negotiating on the mortgage rate can be a very effective tool that leaves both parties in a better position than negotiating on price alone.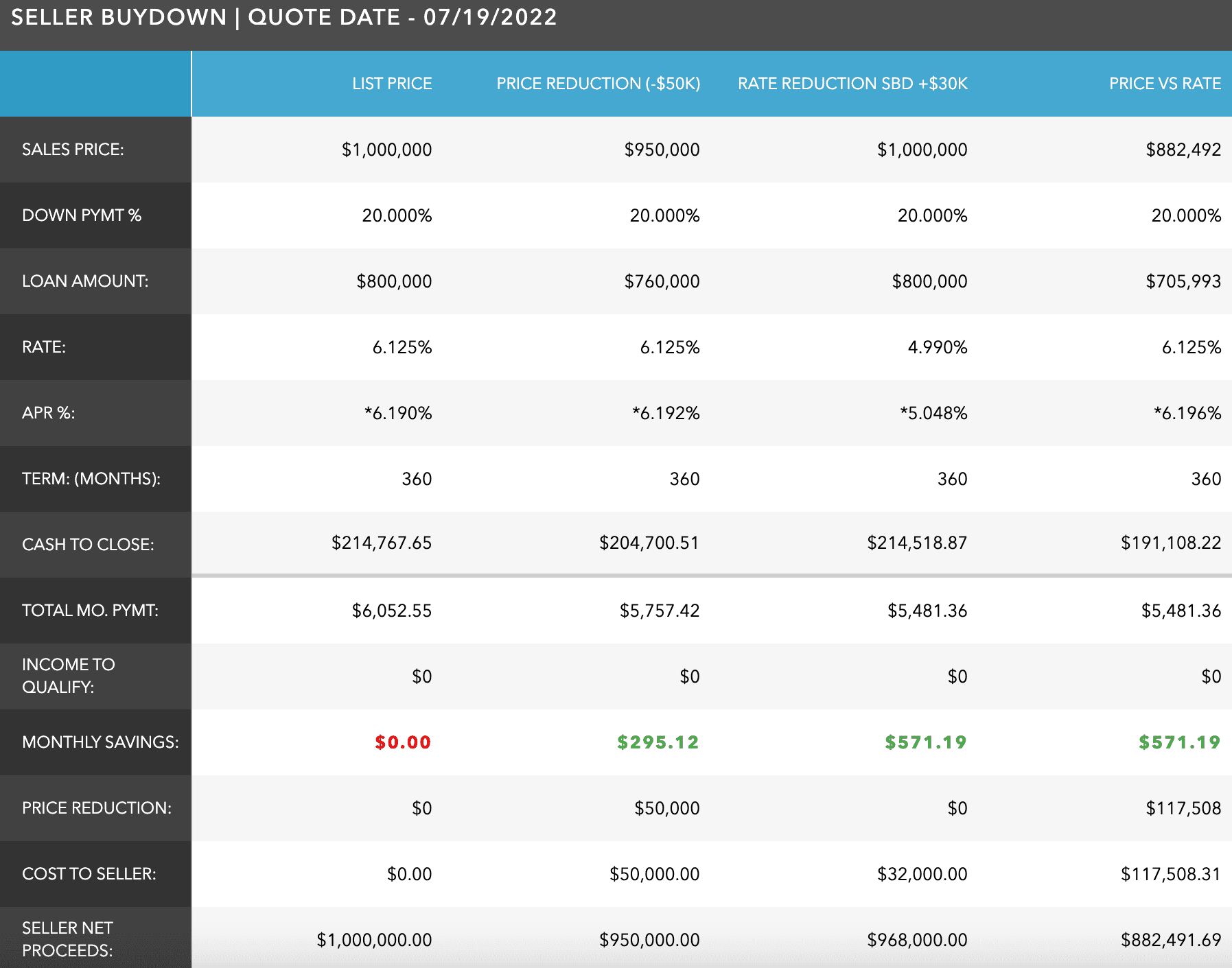 If you're interested in learning more about how to utilize this strategy to your advantage, either as a seller or a buyer, reach out to us and we can go over it in greater detail.
Yours in real estate,
Griswold Group